Emily Barroso was born in Rhodesia, now Zimbabwe, to an English artist and fashion model and a Portuguese spaghetti western actor (who was also a fashion model). Emily's parents were nineteen and twenty and dishy. They married immediately and had three children. The family spent a few years living on and off in Spain, during which it seemed Emily's father lived on and off with the family. Much to-ing and fro-ing between Spain and Rhodesia followed. One day Emily's mother and her children returned to Rhodesia and didn't go back. Emily didn't see her father again until she was twenty-one. Her mother married into a Rhodesian pioneering family soon afterwards. Following the culmination of the Rhodesia/Zimbabwe war, the family moved to South Africa in 1980. This move profoundly affected her and it was partly this sense of dislocation that inspired After the Rains.
At fourteen Emily was 'discovered' by the Elite model agency and began modelling in Johannesburg and Cape Town. She also discovered music and post-punk rock clubs and spent many evenings risking her life, bunking out of her school hostel to go clubbing in a variety of outfits made variously from black bin bags and old sheets. At this time she preferred to wear her hair teased out with the aid of pipe-cleaners. At sixteen, Emily completed Matric at the Art, Ballet, Drama and Music School in Johannesburg, which was marvellous considering she'd bunked out of the hostel during exam week to do fashion shows and party, but only got caught once, and that was because some cow mooed on her. She got conditional university entrance, not conditional that she went, but conditional that she could only do English or Art. Her English teacher suggested she did the journalism course at Rhodes University, but Emily was keen to leave apartheid South-Africa, so she bought electrical goods in South Africa and sold them on the black market in Zimbabwe to help raise the cash for her airfare. Emily's modelling agency didn't want her to leave South Africa, so she packed that in for a while and worked as an au pair in London for a French family with a highly strung mother and a father who wore stripy boxer shorts. She later worked for a posh, horsey woman who was married to an Italian Count. Emily spent most of the time trying to keep the horsey one's child, out of his mother's bedroom in the mornings on account of the uncountable men there.
Emily put her political idealism on hold and hypocritically went back to South Africa to model again for a while. She appeared in most of the South African magazines and starred in a couple of commercials and then went to model in Japan, following which she was asked to go to work in London for the Premier model agency, which she hated. She was constantly being told not to eat and was also encouraged to work with creepy clients. As Emily liked to eat and stay out late with rock musicians and didn't really like the clients or the work either – however good the money was – she parted company with the agency. They were secretly relieved, because Emily didn't understand, though they tried to impress it upon her, how grateful she ought to be to be in their stall in the first place. Emily didn't model again except sporadically when hit on by agency scouts or photographers lurking in Oxford Circus. Appreciating the hours, she has since worked variously as a nightclub hostess, a waitress, a carer for old people, a childminder and as a PA to a film producer. She was once an extra in Eastenders and appeared in a U2 video.
In the mid-nineties she fulfilled her long-held dream by becoming a singer/songwriter with the Camden band Getose (don't ask – name not chosen by her). After six months the band did a Camden showcase gig and several record companies expressed interest. Emily fell out with the lovable yet bonkers French drummer who started the band, deciding to embark on a solo career after SONY BMG offered her studio time. She never took up the offer instead becoming pregnant with Luca, now twenty-six. Following Luca's birth, Emily split with Luca's dad and hit a wall of depression ending up in a single mother's hostel in Kentish Town for fourteen months. One evening, after yet another bottle of red wine downed with her best pal, Emily decided to go to University to study English Literature and rang the faculty the next day. Desperate, with no 'A' levels, Emily wrote a passionate essay about how books and writing have sustained her over the years. They took her on and she completed her BA Hons in English literature in 2000. It was during this time, having taken creative writing as an extra module and deeply affected by the Zimbabwe land seizures, that Emily began writing After the Rains. She went on to take an MA course in Creative Writing at Middlesex University after which she was nominated as her faculty's 'writer of the future' and won a place on the Jerwood/Arvon Young Writers Apprenticeships 2004/5. During this time she set up and became chair of the charity Hand in Hand for Asia, after meeting and teaching displaced Burmese people near the Thai/Burma border in 2003 and 2006. Emily has since stepped down from this role. She has written articles on Thailand/Burma and Zimbabwe for opendemocracy.net
As well as looking after Luca, Emily ran her kid's party business, Party Animals (Kids Arty Parties!) and then for five years up until April 2009, she taught Creative Writing and Art in a therapeutic capacity to ex-offenders and those with a history of substance abuse or mental health issues. She married in 2007 and now has four children three of whom she home educates. She now writes as the kids allow and teaches writing in London and North Wales, where she has had two of her plays staged in London and Wales. Her poem Scapegoat was highly commended in a recent DAC Wales poetry competition and published in the e publication On the Edge. She is also a book development editor and writing mentor.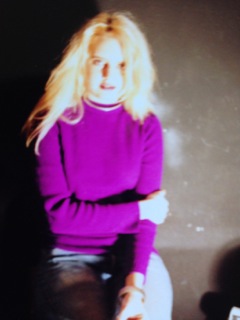 Emily's writing biography
Emily realised she could write  at primary school. There was no television to speak of in 70's Zimbabwe, so she read all the Enid Blyton's (well nothing was politically correct in Africa back then) and then gobbled through her parent's bookshelves. She particularly enjoyed Wilbur Smith and Reader's Digest compilations. At school she discovered that making up stories was impressive to teachers and she won some national poetry competitions. At secondary school she doctored essays for her friends and wrote scathing commentary on the apartheid government, particularly after she had clashed with police for protesting the regime. A move to the UK saw angst ridden journal writing for a number of years, which, when found and read as they occasionally were, caused widespread chaos. This sometimes dark path was punctuated here and there by bright flashes of writing. There were songs written in the middle of the night aided and abetted by substances best left untampered with, as evidenced by the writing that emerged. Then Luca arrived and life had to become serious and so too did the writing. One day, Emily realised that she needed to go to university, it was quite literally, life or death. She rung up the faculty who refused to take her because her South African university entrance exams were not the same as 'A' levels. So, drawing on her long lost ability (she was now no spring chicken, but more jaded hen) to impress the teachers with lyrical waxing, she wrote a passionate essay on literature and writing and they accepted her on the BA (Hons) in Literature course. Her creative writing tutor at the university advised her to do an MA in Creative Writing, and she went on to be selected the university's writer of the future (picture her in a silver spacesuit riding on a giant rocket-pen) in order for her to be put up for the Jerwood/Arvon young writer's apprenticeships, a national award, one of which she won. Following on from this she read from her work at a literary café attended by agents, several of which approached her offering to represent her. She went with the one who seemed most keen and who worked out of Spike Milligan's former office, which thrilled Emily to the bone. She began the arduous task of writing After the Rains, which took ten years. She has since written Big Men's Boots, The Way, which was followed by Unless a Seed Falls to the Ground. She is working on her fourth book. Emily has written, directed and produced three plays: The Call, shown at a small venue in London, Children of the Revolution, as before and Enslaved, shown at both Unveiling Festival in London and Hiraeth Festival in Llandudno.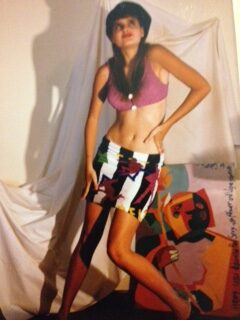 Emily's Art Biography
Emily has always practised as an artist. As a child she drew cartoons with text and illustrated her poetry and stories. Later, her drawings, mostly satirical, illustrated her diaries. She received a place at The National School of the Arts in Johannesburg where she studied art, gaining a distinction in sculpture. Emily has been painting landscapes and figurative work that she gives away but in 2018 she began exhibiting and selling in Wales where she now lives, following 30 years in London. She now paints abstracts, figurative works, line drawings, cartoons, sculpture, and illustrations. She designed the logo for Hillman Publishing and is working on a logo for a private wine collection. She makes art at HAUS Studios, Llandudno and her work is currently (2023) touring galleries in Wales as part of the Aldanio exhibition. Emily also works as a Creative Transformation Coach.
Her art can be seen at emilyjanehillman.com